So LeBron James surpassed MJ's playoff scoring total on his way to a seventh straight finals appearance, and of course it sparked yet another comparison filled debate among fans and detractors of the two. I, for one, have no dog in this fight, yet I have so many issues with this game of "Who's the greatest?" I don't fault anyone for playing fantasy match up for the sake of argument. The issue comes with the agendas. Then again, what is an argument but a series of conflicting agendas?
I prefer to start at the beginning. June 19, 1984 (a day in which the James was a little more than a baby bump), the day of the NBA Draft in which Jordan was drafted with the 3rd overall pick. It is a known fact that NBA in the mid-80's was ran by size queens. It would be hard to debate that the top 5 teams wouldn't be licking their chops if they could choose to pick a 6'8″, 2oo+ lbs., ball handling combination of power and speed. The main reason Mike ended up in Chicago and not Portland is because the size of a Sam Bowie was desired by Trailblazers. And say what you want about Clyde Drexler, Houston literally took Olajuwon with its second consecutive top pick after drafting Ralph Samson at the same damn position in '83. The remaining top 5 picks in '84 were Sam Perkins and Charles Barkley; it is safe to say that one of them would get pushed back for an 18-year-old James on skills alone. Ignoring all factors that shape a career, LJ and MJ would chase history together until one most likely stunts the other as they would be destined to meet several times.
I find the parties debating interesting, too. Let's not overlook that a number
 of LeBron fans who have bounced from one "next big thing" to the next just to spite MJ fans. These fans were probably Penny Hardaway supporters at some point. There are some Jordan detractors who conceded but can't let anyone live with the idea that there could be a player greater than the man who bested their old school favorite. I'm looking at you converted Dominique Wilkins fans. Yet and still there are naysayers who straddle the fence going back and forth between the two.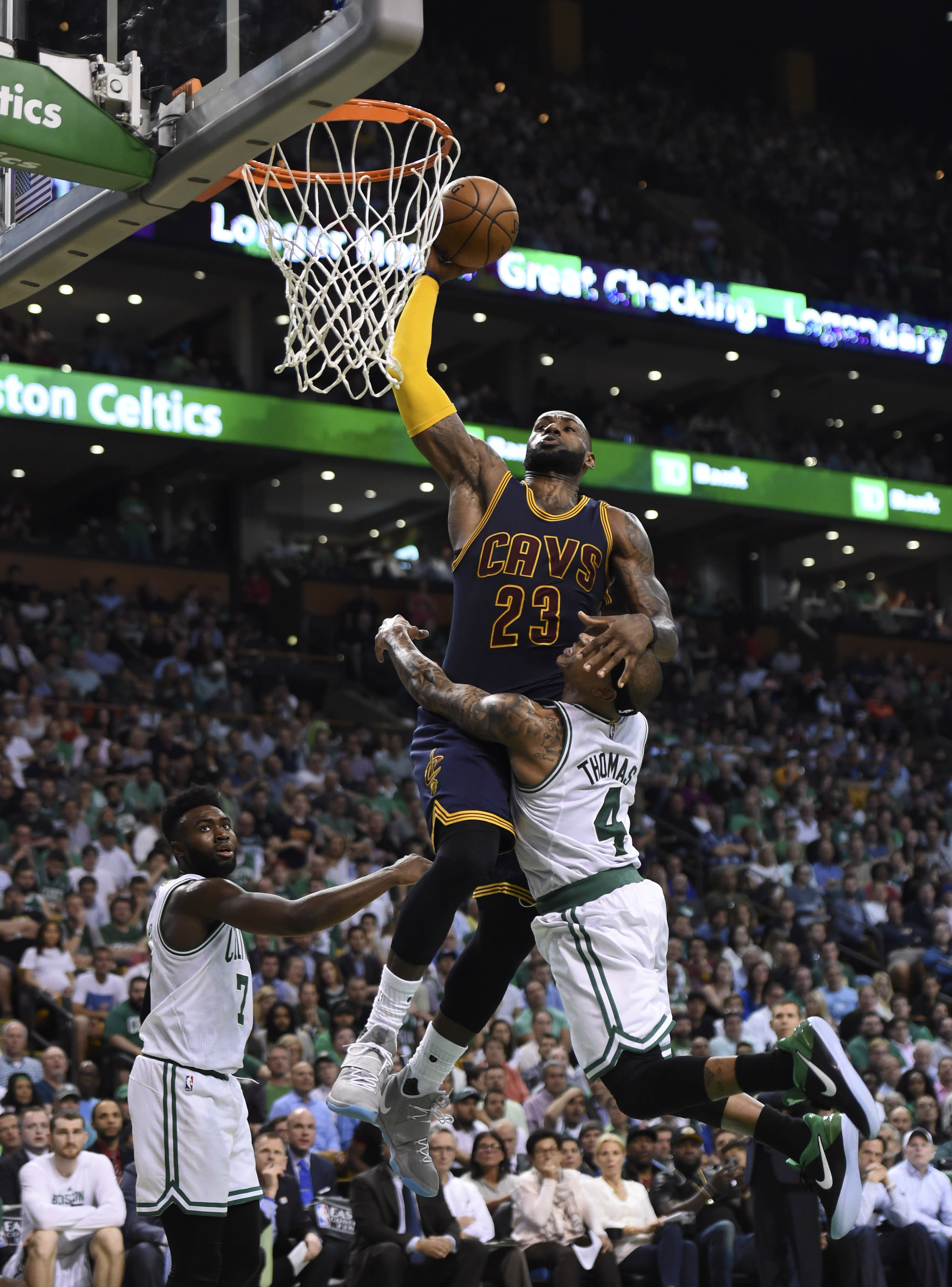 It is a known fact that the two played in different eras thus the reason this argument exists in the first place; earlier, I mentioned the size infatuation in the 80's leading to a surge of big, bruising players for more than a decade. The controversial change in rules limiting physical contact not only ushered in a period of small, quick players, it also revitalized the center and power forward positions. Post protectors are generally a thing of the past now that big men have extended scoring range. James would be alright in the physical NBA of the 80's and 90's.
So, I was once a member of the "LeBron doesn't have the competitive drive of MJ" club. I resigned when I realized how stupid that sounded. MJ was that kid who always wanted to win and would tear you down if you didn't pull your weight on the team. He was the very kid we teach all young players not to be, but he got a pass because he was winning. Put those same behaviors on someone, say Terrell Owens, and you have someone who has the pedigree and stats to rival all time greats. The same person gets little to no respect because he didn't win it the big one all while getting the look of destroying team chemistry. James uplifts his teammates, kids, hometown, close friends, and the youth. Still there is a camp focused on the fact that he doesn't chastise J.R. Smith for not being ready for a big game; somehow he needs to will his team to win more. Remember, 8 Finals appearances and 7 of them in as many seasons so far.
The long and the short of it is that LeBron Raymone James is one hell of a basketball player. The fact that the comparisons start and end with MJ lets you know that he is the greatest at what he's doing. At the moment, James is the second highest active points leader. He is on pace to pace MJ in 1 1/2 season, Kobe in just over 2 seasons, and Kareem in just over 4. While it's a stretch to think of him taking that number one spot, we can look forward to him hitting number three before sending his jersey to the rafters. Ten to fifteen years from now, we'll look back (just as we do with MJ) and wonder how the man did not win more league MVPs. Hell, I'm one to say that he deserve a Finals MVP for 2015 because it was his effort that carried the series to six games. Let's get to these Finals so we can add another chapter, win or lose, to the legacy that is LBJ.